Reuben Mesalles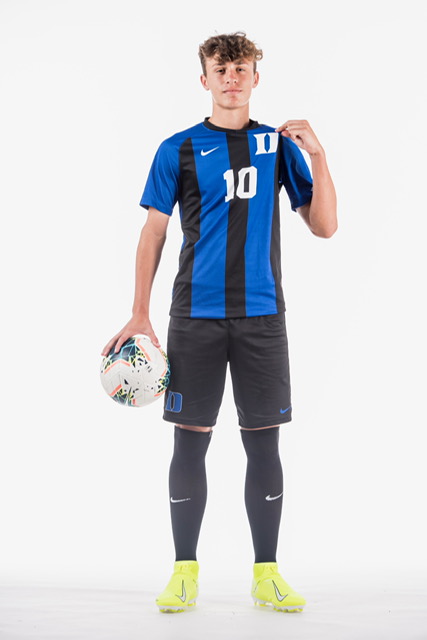 Former FC Standout Ruben Mesalles Commits to Duke University
FC Wisconsin's Where Are They Now feature provides an opportunity to catch up with former players. In this installment, we catch up with Ruben Mesalles who came through the FC Wisconsin Youth Program before his family moved to Florida prior to his U15 season. Mesalles, who is now part of the IMG Soccer Program, has recently committed as a junior to Atlantic Coast Conference powerhouse, Duke University. After his commitment, Reuben reached out to FC Wisconsin to express his gratitude towards the club and the part it played in his formative development years. Here he talks about his time at FC Wisconsin and how it helped him along his development journey.
How long were you a player with FC Wisconsin?
I spent four years at FC Wisconsin from 2011-2014, up to my U15 year. I unfortunately had to leave because my dad got a job in Sarasota, Florida.
What were the benefits of playing for FC Wisconsin?
My formative years at FC really helped me in the long term. Coach Ben Shepherd and Coach Billy Solberg helped me develop and get used to a real 11v11 game. They challenged me to play up an age group. When I played with my own age group, they wanted me to focus on being a leader and having a good time. My teammates push me to reach a high level at a young age.
What were the best aspects of your FC Wisconsin experience?
The high level training sessions and what was demanded of me have always stayed with me. It was a challenging environment that helped me improve as a player. The true family atmosphere at FC Wisconsin is also something that has stayed with me, and something that I have not seen replicated anywhere else.
What is your lasting memory from playing with FC Wisconsin?
My best memory was when we beat Sporting Kansas City in the showcase with goals from Jack and Junior, also that team had dear friends of mine like Austin, Sammy, Cam who I still stay in touch with today. I still remember getting through the tough trainings and fitness, which helped bring us all together and helped make me a much stronger player mentally.
How did playing and training at FC Wisconsin help prepare you to have such a successful first year at the collegiate level?
The training at FC Wisconsin helped me prepare because of the high level of play. I didn't see a difference in competition, so it's was an easy adjustment. The biggest difference is you go from playing club and being an important player, then at Duke you start over and have to prove yourself again. Every player at Duke has the same or more talent than me. It's all about how much you want to work for it.
What advice would you pass on to younger players who have ambitions of playing in college?
The biggest advice for kids wanting to play college is to, START THE PROCESS EARLY. I was Duke's first 2021 commit because I went to three ID camps and did well in two, especially the last one. I met coaches who called coaches to make introductions on my behalf. Freshman year I started emailing the 10-15 schools that I was interested in attending. Don't expect the colleges to come to you. The more interest you put in a program, the more interested they'll be in you. I was really close with 10 universities but I had a top five - Duke, Notre Dame, USF, JMU, and Boston College. From there, I went to more ID camps, emailed, and kept contact. I had a highlight tape at first, but in my opinion if coaches are able to come to your games they are not necessary. Playing wise, what worked for me was being confident, feeling like the best player on the team, and keeping your confidence knowing that you'll score or keep a clean sheet.
What do you think makes FC Wisconsin different from other clubs?
The biggest difference is the training for me. I've never been more challenged then I was at FC Wisconsin. Everything is prepared to help you. FC Wiconsin holds a special place in my heart. It was an incredible stepping-stone on my journey, and now I can proudly say that I'm committed to Duke as a junior in high school. I really want to thank the club, expecially coaches Ben Shepherd and Billy Solberg, for how much they individually helped me develop when I needed it the most. I learned was that you always have more in you as a player and you have to constantly push yourself to improve even when it is hard.