Bennage and Provan selected to Arizona identification camp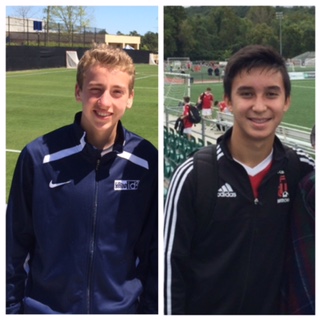 Two more FC Wisconsin players Selected to the next Elite id2 camp
Bennage and Provan selected to Arizona identification camp
For immediate release:
FC Wisconsin players Porter Provan and Vincent Bennage have just been selected to participate in U.S Club Soccer's Elite id2 camp in Casa Grande, Arizona.  This fall FC Wisconsin has now had four players selected into the prestigious camp, highlighting the clubs continued commitment to long-term player development. Provan and Bennage, join Jack Corbett and Santi Davila who were previously selected into the Connecticut id2 camp in September. 
The camp is set up as a National Identification and Development Program that provides an opportunity for the country's top players to come together in a camp to be identified and developed in an elite training camp.  Throughout the camp the players will be coached, scouted and evaluated for the possible inclusion in U.S. Soccer's National Team Program. 
This Elite camp provides players the opportunity to be coached and seen by US Soccer National team staff who are on site.  Once at camp, all expenses are paid for, including lodging, transportation, meals, training and game gear, and coaching.
Porter will be following in his Dad's footsteps, as Josh Provan represented the US National team as a youth player and now helps coach this group within the FC Wisconsin Collaborative Coaching model.  "This is extremely exciting news for Porter and the entire FC Wisconsin soccer family.  Porter is an individual that continues to set lofty goals for himself and getting back to the elite id2 camp has been one of them.  It is a credit to his continued hard work, positive attitude and coach-ability. It's also a great testament to his teammates and all the coaches at FC Wisconsin who push him to be his best every day.  I wish him and Vinnie the best of luck in Arizona in December".
Throughout the course of the camp, players will participate in training, and games and have guest lectures.  Both Provan and Davila have already been invited into camp twice during the course of this year. Bennage's invite marks his first selection following on from Corbett's first invite in October, which was hosted in Connecticut.
"I'm excited to have been selected id2 camp and compete against other players from around the United States.  This is a huge honor to be selected to such an elite camp.  The FC Wisconsin coaches challenge me to improve every day in training and push me past my comfort zone.  I love how they challenge me and the other players to apply what we learned in training to the game.  I feel that the FC Wisconsin training has prepared me to represent the club well" said Bennage. 
"Having a total of four players selected to this elite camp during our Fall season speaks volumes about our club, our players, our coaches and the training environment.  This a great honor for these players and a great reward for their hard work.  Being selected to train and compete in front of National Team Staff is a great opportunity.  We are so proud of the players selected, the players that push these players every day in training and their coaches.  Good luck boys!"  said Co-DOC Ben Shepherd.