FC Wisconsin the Only Club in the State to Send TWO Players to the Elite ID2 Camp.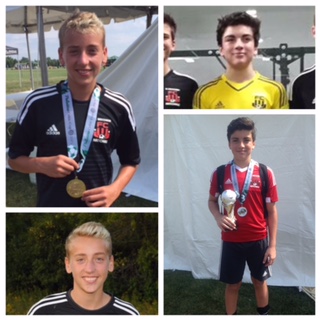 FC Wisconsin Nationals
 News Release
FOR IMMEDIATE RELEASE – 2.29.16
Provan and Davila Selected for Prestigious id2 Camp
FC Wisconsin the Only Club in the State to Send TWO Players to the Elite ID2 Camp.
FC Wisconsin would like to congratulate Porter Provan and Santi Davila on their selection into the prestigious ID2 Camp on April 7th in Raleigh, NC. 
US Club Soccer's ID2 program is a program designed to identify the nations best youth soccer players.  This is a National Identification Program that provides an opportunity for those elite players that are selected to be identified, developed, and scouted by US Soccer National Team Coaches and Staff.  The camps are held at the best facilities in the country, where all lodging, coaching and meals are paid for by US Club Soccer. Most importantly it's a program for these Elite players to be coached and evaluated by National Staff members for possible promotion into Youth National Teams. 
"This is a massive honor for not only Porter and Santi but for the club and the players that are continually pushing them in training and in games.  This honor speaks volumes about both Porter and Santi, with regard to how they train, how they work on their own and how they compete and lead on the field.  We have played both Porter and Santi up in age groups to challenge them and force them to play and think faster, and we have also played them at their respective age group to help them learn to lead and set good examples" said Co-DOC Ben Shepherd.
Santi gets his goalkeeper training from FC Wisconsin's Goalkeeping Director Josh Rohde who had this to say about the young goalkeeper:  "Santi's development has been fantastic during the course of my time at the club, especially considering he only started playing in goal just a few years ago.  His work ethic is second to none, he's coachable, committed and willing to listen to all types of feedback and that all starts with the type of environment that FC Wisconsin has created for the kids.  FC Wisconsin has taken the appropriate steps to create the proper environment for Santi which has been crucial to his development in getting him to where he is now and where he is going to go.  Santi has a bright future ahead of him if he continues to work hard and push himself to be the best.  I wish Santi the best of luck and I am honored to get to work with him and train him every week."
The Provan family has a history with being scouted by US National Team Staff, Porters father, Josh, has spent time in the US National Team as a youth player as well.  Josh is also a professional coach on the FC Wisconsin Staff, he had this to say on Porters selection to id2:
"I am absolutely thrilled and excited for Porter, Santi and the FC Wisconsin family on their id2 camp selection-it is a huge honor.  This is definitely a big step in ones soccer journey and we couldn't be more proud of both Porter and Santi on their accomplishment. 
I can tell you that Porter has worked very hard over the past two years and he continues to work very hard both on and off the field, whether that be in the backyard working with the ball on technical touches or working at the gym to increase his physical strength.  It is without a doubt, a big reason why his game has elevated as such over the past two years and it is great to see these efforts continue to pay off.
As a former National Team player pool participant myself, this just as importantly, serves as a strong confirmation of FC Wisconsins commitment to player development.  We are very thankful to all the coaches that continue to get the best out of Porter and all of our players.  It is also a great testament to our Coaching Directors' commitment to getting our players exposure to National level opportunities such as this."
As Santi is being trained by the top GK Coach in the state, Josh Rohde, Porter is being trained by any one of ten Coaching Staff members at training for the U13 and U14 age group.  "Porter constantly brings a tireless work rate.  He can be dominating in the air or pull the strings in the midfield or strike an incredible free kick.  He is always eager to learn and apply from any one of the coaches.  This is a well deserved honor for him" said Co-DOC Billy Solberg.
Coach Marty Lataille added "Before training you can find Porter doing one of two things: getting his 15,000 technical touches in or working on his set pieces.  Bottom line for both Porter and Santi, we couldn't be prouder of this selection.  They are continually pushed past their comfort zone in training and have reacted incredibly well.  Both will represent the club extremely well"
We wish both of them the best of luck at id2 camp, in the meantime they will be pushed and prepped by all players and all staff the next few months leading up to camp. 
More information regarding US Club Soccer's ID2 Program can be found HERE