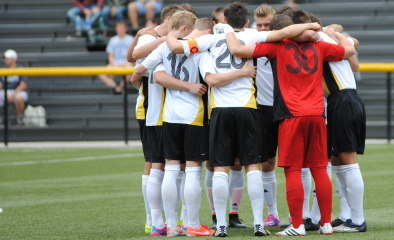 9.2.14 --For Immediate Release:  FC Wisconsin Players already making big impact in opening weekend of NCAA Division I College games.
This past weekend saw many former FC Wisconsin players help their teams to big victories in their opening round of games.
Nick Moon and Reid Stevenson both freshmen at UW-Milwaukee made their collegiate debuts starting in both weekend games against DePaul and Drake University. Moon would score the game winner in his first ever College outing in a 2-1 victory over DePaul on Friday night in front of over 2,000 fans at Engelmann Stadium. On Sunday, at Drake University, Stevenson would get in on the act as he scored the opening goal and eventual game winner in their 2-0 win, sending Milwaukee to a 2-0 start for the season.
"We are extremely proud of the start that both Nick and Reid have made at UWM. Both were players that excelled in the US Soccer Development Academy league, and we have no doubt that they will go on to become top players at the Collegiate level"  - commented USSDA Director and Co-DOC Ben Shepherd.
There were other key notable performances from former FC Wisconsin players this weekend; none less that Jeremy Nji who scored the game winner in double over-time to fire UW-Green Bay to a 1-0 win in their opening game of the season. The match also featured three other former FC Wisconsin Alums in AJ Patterson, Cheenuj Shong, and Adam Nelson.
Marcus McCrary another freshman started in both of Ohio State's opening weekend games in a 0-0 tie with UC-Davis and 2-2 tie with Butler. McCrary would lead the team in shots during the 2-2 tie with Butler.
Alex McBride and Driton Zyteja both of whom red-shirted their freshman year, made their college debuts for Marquette University in their tough losses to #1 ranked Notre Dame 2-1, and the University of Indiana 1-0. McBride would start and play the full 90 minutes in both games and Zyteja saw action off the bench against the Hoosiers. Patrick Hodan, another former Alum led the attack for Notre Dame in their win over Marquette as they look to defend their National Championship.
Max Karcher, who red-shirted his freshman year at St Louis University started both games this weekend in both of their wins over Tulsa 2-0, and Virginia Tech 3-1. Karcher started and played every minute in both victories at Center Back.
Zacc Roelke another player who redshirted his freshman year also made his collegiate debut in Wisconsin's 4-0 victory over Xavier. Wisconsin bounced back from an opening day 2-1 defeat at the hands of San Francisco to score four second half goals to down Xavier and get their first win of the season.
"We are extremely pleased to hear about all their early successes.  It's a tribute to their hard work and focus.  There are a lot of our FC Wisconsin Family having immediate big impacts at the college level.  Not only are we so proud of all these players and their efforts but we are excited to continue to develop all our current players to do the same thing.  We knew they would continue to contribute at the next highest level and we wish everyone the best of luck the rest of the season" said Co-Doc Billy Solberg.
For a complete list of the 2014 College commitments, please click HERE.
For more information on the club and all our teams please visit www.fcwisconsin.com
For updated scores and highlights, follow us on twitter and Instagram.
Twitter:  @FCWisc
Instagram: fcwisconsinnationals