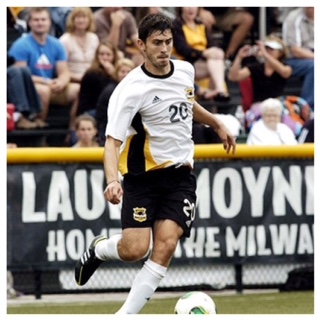 For Immediate Release
February 5th, 2015
MLS Prospect Laurie Bell Trains with FC Wisconsin during Winter Break
Germantown, WI, February 5, 2015, – Bell gives his insight into what it takes to play at the next level.
FC Wisconsin players have been fortunate to have the opportunity to train with top collegiate players from around the area during this winter break. Laurie Bell, a graduating senior from UWM, who has led the Panthers in scoring and points for the last two seasons has been training with the club to help maintain his fitness before entering a pre-season with a professional club. Bell, finished his UWM career with All-American, All-Region, All-Conference, and Horizon League Player of the Year Honors, and was a Semi-Finalist for the Herman Trophy List in 2013. After being invited to the MLS Combine in January, Bell will now embark on a pre-season trial at a professional club. 
Laurie took the time to offer some great insight to our aspiring players on what it takes to play at the next level below.
Interview:
Q. Having played 4 years at the Division I level, what would you say are key attributes needed to be successful in the College game?
Bell. You have to commit fully to the fall. It can be a short, intense season, and you have to be willing to give everything in those few months. Sometimes that means playing through tiredness and injury. You'll only get a chance to show how good you are technically once you've proved your tough enough to compete. 
I think learning to play a role in a team is massive in college. You might not be able to show all your attributes, but if a coach can trust you to consistently perform in a position, this is more important and you'll play more. Also, if you're a passer, go to a school that plays good football (like UW-Milwaukee!).

 
Q. How important is the Academic side of things in College?
Bell. When you decide to go to college you are committing 4 or 5 years of your life to so much more than just soccer. The fall season is fantastic, but it's short, and you are left with months that go by without playing. It's easy to be focused and disciplined during the season, but I think it is important to commit yourself to all aspects of the college life so dealing with indoor training and a lack of games isn't so bad. Become interested in your major, so you can get some enjoyment out of classes. If you're taking them for half a decade, you might as well be enthusiastic about what you're doing.

Q. What were the differences from training and playing as a youth team player compared to the College game?
Bell. Well I played youth team football in England, so it's pretty different. The games are very fast in college, which is something that took a while to adjust to. Plus you're playing in a very competitive league now, so results matter. Big time. This means opposition teams might look to sit deep and stop you playing, or man mark your best player, or bombard you with set pieces. It's competitive and you need to be ready to battle.
The training was never all that different. I've had great coaches in England, and great coaches in Milwaukee. I love training and always enjoy competitive sessions. But never be afraid to train by yourself either – that's often the best time to improve specific parts of your game

Q. What is the hardest aspect of being a student-athlete?
Bell. For me it has always been the off-season. In fall, your schedule is hectic and you have no choice but to stay on top of everything: game preparation, recovery, classes. But once the season is done, it's easy to become sloppy and bored with a lack of soccer. That's why I think it's crucial to understand that you're in college to do more than play. Make sure you have a good friendship group to have fun with off the pitch, become interested in the city that you live and, like before, throw yourself into your classes. On an off day, doing homework in a coffee shop in a cool part of town is something I do for fun. It's important to love your life outside of soccer too. Being an athlete is just one part of the experience.

Q.  What made you want to come and train at FC Wisconsin during your break?
Bell. I'm currently hoping to go and complete a preseason then sign with a professional soccer club. And so I need to stay in good condition. Being in Milwaukee, I was looking for high-quality training around the area. My teammates Dustin Ashley and Declan Rodriguez told me they had trained with FC Wisconsin recently and that they had really enjoyed the level of training so I joined them at the next session. Linking back up with Ben Shepherd, one of my former college coaches has been fantastic, and I knew he'd run a good and challenging sessions. So it has been a good fit.

Q. What were your initial thoughts after training with FC Wisconsin?
Bell. The sessions are dominated by fast-paced passing patterns that require players to think, which is something I've really enjoyed. You can tell the drills challenge all the FC Wisconsin boys, and improve them, and I get a lot out of them as well. I think the level of play is excellent and the coaching is great from Ben Shepherd and Coach Solberg. Overall, I've been really impressed by what they're able to do on the tight indoor pitches, which I'm usually not a fan of.

Q. If you had one bit of advice for any aspiring player looking to play at the collegiate level, what would it be?
Bell. Work hard and always, always improve yourself. If you get given a chance to play in college, it's because you're good enough. So if you ever have a tough period, if it's for 10 minutes or half a season – and everybody does – don't doubt your ability. When you first arrive, make friends with the older guys who seem like good leaders. Don't just live in an all-freshman bubble. Learning from seniors and being liked by them will help you settle in, and I bet your playing experience will be better too.
Above anything though, enjoy it. Commit yourself and love the college experience. They might just be the best years of your life.
Here is a link to Laurie Bell's collegiate and PDL highlights from his time at UW-Milwaukee: https://www.youtube.com/watch?v=rTfw44o_Gq4
Everyone at the club wishes Laurie the best of luck as he embarks on his professional career!!