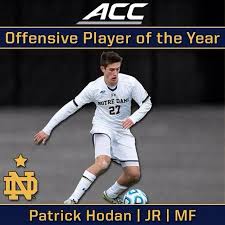 Former FC Alum Patrick Hodan, a rising Senior who is currently at University of Notre Dame is predicted for big things this year!! He is already projected to go in the top 5 picks for the MLS draft, has won an NCAA National Championship, and now he is ranked as the top midfielder in Division I NCAA soccer. His development, work rate, willingness to be pushed beyond his comfort zones and the start of his success all started with FC.
Continued proof of how our club is above and beyond the best at long term player development. 
Congrats to Patrick and continued success! Keep working hard! FC and the FC Family is so proud of you!
To read more about Patricks success click
HERE.