Former defensive standout gives back through coaching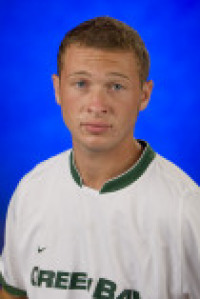 FC Wisconsin recently hired new coach Joey Marasco to help with all teams in the club.  Joey has been part of the FC Family since 2004.  As a player both in high school and for the club Joey was a standout defender, always a passionate, patient, yet intense defender. He would lead both his High School team and his FC teams as a team captain.  "Joey was the type of player and person that everyone loved to play with.  He was a hardworking, intense player that helped bring out the best in the players around him.  Joey was a gifted defender knowing when to be patient or when to make a good hard tackle.  We not only hired him as great up and coming young coach but also as role model for our players as someone who has grown up as part of the FC Family" said Co-DOC Billy Solberg.
Get to know and please welcome new coach Joey Marasco!
Where did you grow up?  Where did you attend high school?  Any honors through your youth playing days?  ODP? High school? What college did you attend?
I grew up in Milwaukee, and I played at Milwaukee Pius XI High School. While at Pius I received multiple 1st Team All-Conference Awards as well as 1st Team All-State my Senior Year. I played ODP for 4 years making it as far as Regional Camp. I attended UW Green Bay on a scholarship in 2008.
When did you join the FC Family as a player?
I joined FC in 2004-05. JC Banks and I were teammates at the Milwaukee Simbas Soccer Club, and we had decided to join FC to become better players, play at a more competitive level, and set ourselves up to play in College.
What is your favorite memory as a player?
My Favorite memory as a player was also my least favorite memory. In 2007 I captained our FC U-17 team and we had made it back to the National Championships in Texas for a 2nd year in a row. In group play we went 1-1-1 and made it into the National Championship Game. We faced a tough Andromeda team from Texas whom we had lost to in our first game of the weekend. We played an extremely tough match which went into Double Overtime as the score sat at 2-2. We had a strong group of Penalty Kick takers, but we lost in PK's 5-2. Although we lost, it brought our team together even closer and when it was all said and done we were no longer teammates, but rather family members. Billy Solberg was the head coach of our team, and every one of us would tell you, we never would have made it so far if it wasn't without his intensity, confidence in us, and high expectations.
Why did you decide you wanted to be a soccer coach?
I love playing the game, and love teaching the game.  I not only wanted to give back to the game but I cant wait to be able to coach my 2 year old son Oliver. That will be a special day for me as a dad.
Why did you decide FC Wisconsin was the right place for you as a coach?
The decision to coach at FC Wisconsin was extremely easy and simple, it is where I played my best soccer, where I have learned the most about the game, and where I received the best coaching.
What is the best piece of advice you could give the FC Players moving forward?
The best piece of advice for current and future players at FC is, be prepared for a challenge, remain confident no matter how bad of a day you are having, and remember that we are all one big family!
How would you describe the daily atmosphere of an FC Wisconsin training session?
The daily atmosphere of an FC Wisconsin training session is very serious and dedicated to player development. Having played for the club previously, I can honestly say that there are so many more opportunities to better you as a player now than before. With the amount of talented coaches surrounding each player, players are able to seek out 1 on 1 advice and coaching while moving forward with team training.
How would you describe the FC Wisconsin Club experience to another parent?
I would tell other parents that if you are looking for a club that can provide on and off the field development for your child, this is where they need to be. I would say that your child will receive the most unique pro like atmosphere day in and day out with all of the tools and resources to become better. I would also say that we pride ourselves on having multiple coaches at all sessions so that players receive multiple perspectives as they train and develop.

Favorite Pro Soccer Team: Bayern Munich 
Favorite Pro Soccer Player: All Time- Zidane. Current- Robben
Favorite Pro team non soccer related: Green Bay Packers
Family:  (Kayla, fiancé), (Oliver, son)
Favorite food? Spadini
What do you do in your free time? Soccer in the backyard with my son Oliver, we are currently working on right footed volley's. (He's 2!!)
Favorite movie? Cool Runnings