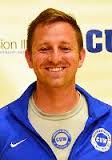 Coach Lataille has played and coached at Concordia University, is currently a teacher and coaches U13 -U18 at FC Wisconsin.  He is an incredible coach, and teacher of the game who genuinely cares about each player in this club their development as a player and as a person.  Read more about Coach Marty
Where did you grow up?  Where did you attend high school?  - Born in Providence,  Rhode Island then moved to New Berlin, Wisconsin during  4th grade. I am a 2003 graduate of  West Allis Nathan Hale.
Any honors through your youth playing days?  ODP? High school? What college did you attend? I attended Concordia University of Wisconsin, which plays at the NCAA division 3 level.   Through high school and into college my personal achievements were very minimal but I was fortunate to compete as a starter and role player for successful teams  at the state , regional and national levels.
What is your favorite memory as a player? Throughout college we earned one bid to the NCAA tournament and earned a couple conference championships. I also think back about some great victories over nationally recognized programs like UW-Oshkosh and Dominican University. However, in all honestly I loved training and being out there with teammates.  
Why did you decide you wanted to be a soccer coach? It is safe to stay my ambition and determination out reached my talent. So after my sophomore year of college I started coaching youth and high schools teams in the spring. After graduating I wanted to stay connected to the game and I was fortunate to find role models and environments that were willing to work with a young coach.
Why did you decide FC Wisconsin was the right place for you as a coach? During my time coaching at the college and club levels I had made friendships with Ben Shepherd and Kevin Brennan. When Ben contacted me about joining FC and hearing his vision and philosophy for the club I knew this was a chance to coach at a higher level, expand my knowledge and work with a remarkable staff who love to coach.    
What is the best piece of advice you could give the FC Players moving forward? The view you adopt for yourself affects the way you lead your life.  Players who have a passion for stretching themselves and persevering through challenges develop rapidly as a player , but more importantly  as a person.
How would you describe the daily atmosphere of an FC Wisconsin training session? After working with different clubs, numerous collegiate camps and programs I have never been in a environment that has collective philosophy toward training and player development. The player to coach ratio is unlike any place I have ever been. Coaches have the ability to address individual needs and collaborate with others coaches on a daily basis. The trainings sessions are purpose driven, competitive and energetic.
How would you describe the FC Wisconsin Club experience to another parent? If you want your child to grow as a player there is no better environment. Regardless of the talent level we provide modernized training sessions, a competitive atmosphere, individualized assistance, outstanding facilities and coaches that truly care about the players.

Favorite Pro Soccer Team: Blackburn Rovers
Favorite Pro Soccer Player: Henrik Larsson and David Dunn
Favorite Pro team non soccer related: Sorry Billy….Detroit Lions
Family:  My fiancée is Christine and we have a dog named Henrik.
Favorite food? Qdoba

What do you do in your free time? Although free time is rare, I love spending it with family and friends.
Favorite movie? Inception and the Last of the Mohicans.