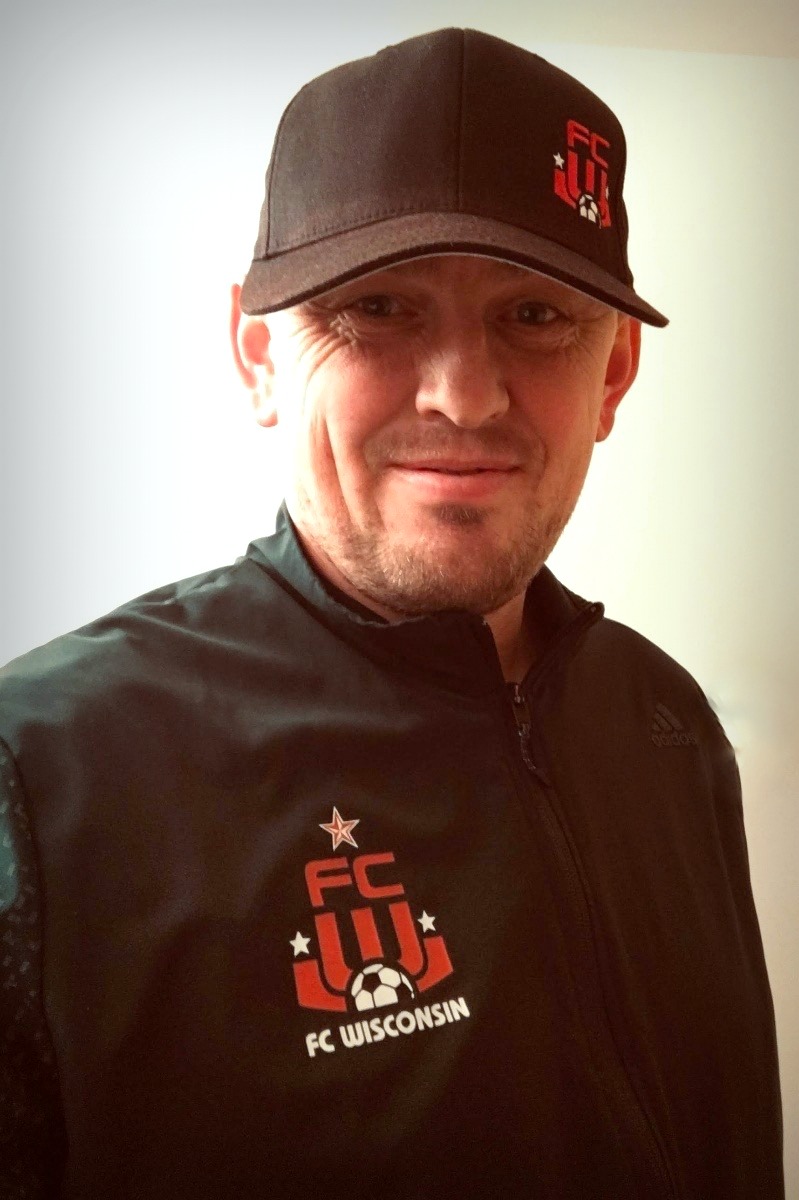 Where are you from?
Kingswinford, West Midlands, England
What city do you live in currently?
New Berlin, Wis.
How long have you lived in the Milwaukee area?
Almost two years
What school did you graduate from?
Crestwood Secondary School
What was your field of study?
School is different in the UK. After I stopped playing football, I got my coaching qualifications and was a qualified sports educator at a local college for Altrincham Football Club.
Best playing memory?
There are so many to choose from, but I would say either scoring on my debut for Walsall in the FA Cup away at Yeovil FC when I was 17 years of age ... or making my Premier League debut for Oldham Athletic away at Chelsea at the age of 18.
Big or small family?
Small
Do you have any pets?
No, but I am under pressure to get a dog from my wife Amy.
Favorite soccer team?
West Bromwich Albion – I am hoping to convert many more from the FC Family to support them.
Favorite soccer player?
Growing up my hero was Kenny Dalgleish. He played on the great Liverpool teams of the 1980's. For me, he was one the top British players of all time.
Who's better, Messi or Ronaldo?
Tough question both are brilliant in different ways. I would lean towards Messi just because he can do the unexpected time and time again.
Favorite professional coach?
Alan Little. He was the manager at York City and Southend United. A great man manager and coach.
How long have you coached for?
15 years in total, five years of youth football
How long have you coached at FC?
Nearly two years
Are you full-time or part-time with FC?
Full-time
What is your title?
Regional Competitive Director at FC Wisconsin
Favorite sport to watch besides soccer?
Coach Ben Shepherd will not forgive me for this, but I love baseball. I never saw a game until two years ago ... not sure I have missed one since. LET'S GO BREWERS!!
Favorite thing to do in free time?
I like spending time with family and friends. I enjoy playing golf. I think it is the biggest past time for a lot of sports players. I also like fishing - again, I had never done this until I moved to Wisconsin.
Who's your favorite athlete?
Tiger Woods, as well as being super talented, I like his passion and determination to win and "never give up" attitude.
What was your first job? When did you have it?
My first job was playing football. I left school at 16 to become an apprentice at Walsall FC in June 1990.
Do you prefer to cook or eat out?
I prefer to cook.
What's your favorite meal?
A proper English breakfast with HP sauce, or the Thanksgiving meal at Coach Billy Solberg's parents' house.
What is your favorite type of foreign food?
Coach Jamie Bladen got me into Mexican food. He takes me to one every time we are away coaching together.
What is your favorite holiday and why?
Thanksgiving, as it is new to me and it's time spent with family and friends while eating amazing food! Coach Billy's mom makes the most unbelievable Thanksgiving meal!
Favorite TV Series?
Only Fools and Horses ... I can watch it over and over again and still laugh. British comedy at its best.
Favorite music artist?
The Stone Roses and Oasis ... I also really like country music. You can't beat a bit of Zac Brown!!

Favorite time of the year and why?
Whenever I get to see my daughter Erin. She recently came over to Wisconsin and loved it, so hopefully all her holidays will be here in the future.
Best city you've visited?
Budapest ... it's an amazing city. If you're ever in Europe, I highly recommend it.