Over 60 current alums playing college soccer across the US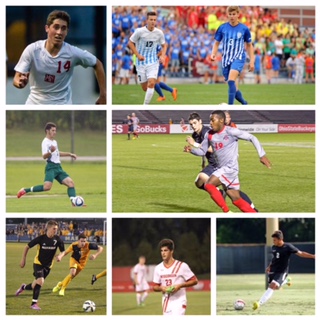 FC Wisconsin Alums Excelling at the Collegiate Level
9.28.16 --For Immediate Release:  FC Wisconsin continues to have more College Alums than any other Club in the State of Wisconsin. With over 60 current alums playing college soccer across the US at every level, FC Wisconsin players are making a big imprint when they move to the next stage of their career.
As most programs have now started their conference play, more club alums are making their mark in Division I, II, III and NAIA competition across the country.
NCAA Division I:
Michael Carreon

and Robleh Omar both freshman at the University of Wisconsin - Green Bay have already both seen action this season. Omar has played in 6 games gaining one assist and Carreon has seen the field on two occasions. Buran Huseini in his second season with the Phoenix has started all 8 games also picking up 1 assist.
Senior Logan Ketterer has started and played in all of Bradley's 10 games so far this season posting a 1.66 Goals Against Average. Ketterer was an All-Missouri Conference Honorable Mention in 2015 as well as an NSCAA All-Scholar 2nd Team honoree.
Freshman Stefan Rokvic has helped Wright State University start the season with a 6-3 record. Rokvic has played in 8 games and has 1 assist on the season for the Raiders.
Ohio State University

has won 2 out of their last 3 games to improve to 3-6 for the season. Junior Marcus McCrary has played in all 9 games adding one assist on the season. McCrary made the Big Ten All-Freshman Team in 2014 and the Academic All-Big Ten team in 2015.
Temple University

has had a great start to the season posting a 6-3 record. Alex Cagle (Sr) has started all 9 games in goal for the Owls conceding only 7 goals posting a 0.79 Goals Against Average. Cagle earned his 5th shutout on the season

in the recent 1-0 win at Penn State University.
NCAA Division II:
The University of Wisconsin – Parkside

is well represented by former FC Wisconsin players with no fewer than 8 players on the current roster. Senior Ryan Shogren leads the team with 3 goals so far this season as well as

the game winner against #23 Upper Iowa University.

Freshman Leo Villa and Burim Huseini have both played in all 8 games with Huseini adding 1 goal and 1 assist for the Rangers. Fellow freshman Stevi Krecak also has 1 goal on the season, having played in 6 games. Sophomores Petar Krecak has started and played in 8 games and Jack Krenzien has played in 3 contests.
Antonio Amaya

a sophomore at Barry University in Florida has helped the Buccaneers to a 6-1 start to the season and a #11 National Ranking. Amaya who transferred from UW-Green Bay has played in all 7 games so far this season.
NCAA Division III:
Bradan Andryk (Jr)

continues to lead the Milwaukee School of Engineering (MSOE) raiders already notching 9 goals and 1 assist in his first 9 games. Andryk entering his junior year and a 2015 NSCAA All-American has 19 points on the season.
St Norbet College

has started the season posting a 7-2 record winning their last four games. FC Alums Ian Lofdahl (Jr) has played in all 9 games, DJ Dickson (So) has played in 8 games and freshman Ryan Hansen has played in 7 games on the season.
#2 Kenyon College

had won 8 games in succession before their recent loss to Case Western on September 27th. Billy O'Neil (Jr) has started all 9 games and has 2 assists on the season.
Aidan Hogan

has helped the University of St Thomas to an unbeaten start to the season with an 8-0-2 record. Hogan has played in 6 games and only conceded 1 goal for a 0.18 Goals Against Average. Fellow FC Alum Christian Elliehausen has played in 9 games and picked up 1 assist on the season.
Will Seehawer

in his freshman campaign has started 5 games for UW-Platteville helping the team to an 8-2 record. Seehawer currently has 0.67 Goals Against Average on the season.
NAIA:
Cardinal Stritch

and FC Wisconsin Coach Jamie Bladen have had a good start to the season posting a 4-3-2 overall record and a 3-1 record in conference. Juniors Bobby Saskowski has played in all 9 games, and Bernie Macais has played in 5 games. Luke McVeigh (Fr) has played in all 9 games and

scored his first collegiate goal for the Wolves in their recent 3-2 loss to Olivet

. Mike Weiss (So) has seen action in 3 games.
For a complete list of the FC Wisconsin players in College, please click HERE
For more information on the club and all our teams please visit www.fcwisconsin.com
For updated scores and highlights, follow us on Facebook, twitter and Instagram.
Facebook: FC Wisconsin Nationals
Twitter:  @FCWisc
Instagram: fcwisconsinnationals