Conference Championships, National Tournament Bids, and Player Awards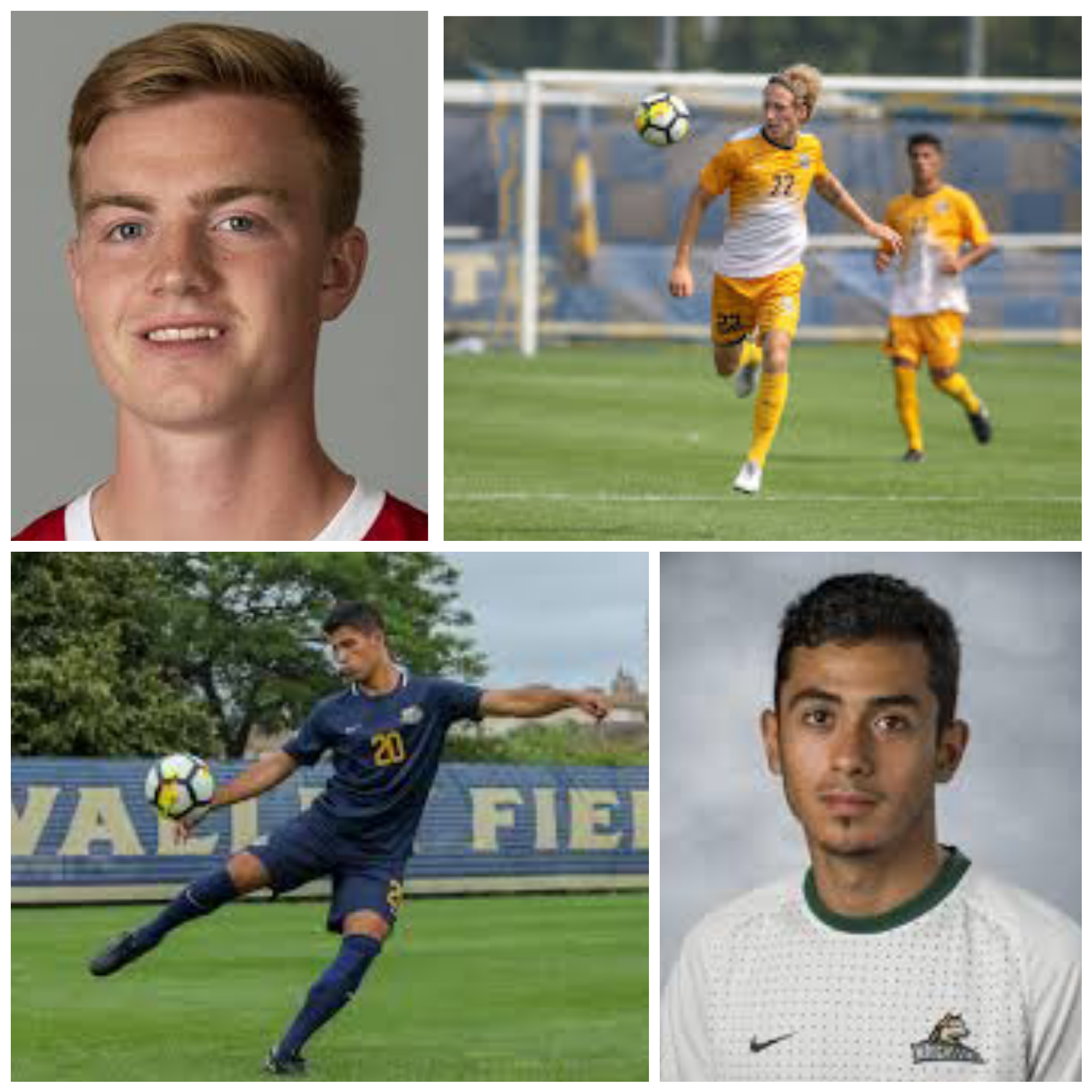 FC Wisconsin continues to have more college alums than any other club in the state of Wisconsin. With more than 90 alumni currently playing college soccer across the U.S. at every level, FC Wisconsin players are making a big impact when they move to the next stage of their soccer careers.
As the collegiate regular season has reached its conclusion, FC Wisconsin alums have show unprecedented success with regular season conference championships, conference tournament championships, national tournament bids, as well as individual player awards. Check out all of our FC alumni successes below.
NCAA Division I
Marquette: Had a great 2nd half to the season recoding a conference record of 5-3-1, which guaranteed them a spot in the Big East Tournament for the first time since 2014. Marquette would win a nail biter first round game vs Xavier on penalties 7-6. Leo Villa (Jr) scored the game-winning penalty to secure the win. Villa in his first season with Marquette started 16 games and ranked 6th in total minutes played this season. Marquette would advance again on penalty kicks in the Big East Semi-Finals defeating #17 Creighton. The game would finish in a 1-1 tie and Zak Wegner a red shirt freshman would pick up his first assist on the year. Both Wegner and Villa would score in the shootout to help Marquette advance. The Golden Eagles season would end in the Big East final losing 2-0 to #19 Georgetown. Wegner would finish the season starting 18 of 19 games. Tode Atlija (So) played in 6 games on the season and fellow sophomore Cade Dombrowski made 1 appearance.
University of Wisconsin – Green Bay: The defending Horizon League Champions had another string season finishing with an 8-6-2 record and 4th place in the Horizon League. The Phoenix would eventually fall in the Horizon League Quarter-Finals to IUPUI. Buran Huseini (Sr) started 16 games and earned All-Horizon league First Team honors. Huseini was also awarded Defensive player of the week on October 29th. Fellow senior Brady Lenius would also make 16 appearances on the year and was awarded Horizon League All-Academic Team Honors. Junior Michael Carreon scored his first career goal in the 3-2 Over-Time loss to IUPU and had career high 11 appearances on the season. Fellow Junior Robleh Omar would see action in 9 games on the year.
Northern Kentucky University: Abdul Kooistra (Sr) helped Northern Kentucky to a 10-7 record on the season in Coach Riddle's second year with the program. Kooistra a transfer from the University of Wisconsin started all 17 games and added 2 assist on the season.
Eastern Illinois: The Panthers had a tough season going 3-10-4 overall and a 1-2-2 record in the Summit League. Freshman Cole Stephens saw action in all 14 games on the season.
NCAA Division II
The University of Wisconsin – Parkside: The Rangers went 9-7-1 this year and were well represented by former FC Wisconsin players with no fewer than 7 players on the roster. Parkside finished 2nd in the GLIAC and were piped to the championship on the last day of the season losing in over-time to #22 Saginaw Valley 2-1. Seniors Evan Garcia and Petar Krecak started all 17 games with Garcia netting 3 times and Krecak adding 1 goal and 1 assist on the season. Jack Krenzien (Jr) started 17 games and had 2 goals on the year, ranking 3rd on total minutes played. Fellow Junior Stevi Krecak started 15 games this season adding 2 goals and 1 assist. Krecak was also honored in making the Academic All-District Team. Burim Huseini (Jr) saw action in 15 games on the season scoring 1 goal and fellow Junior Noah Prokash saw action in 1 game.
Northern Michigan University: The Wildcats improved again this season going 6-6-5, setting many school records along the way. Brady Kronenberg (So) played in 5 games and added 1 assist on the season. Fellow sophomore Lance Janowski played in 3 games on the year, while freshman Harrison Curran made one appearance.
Upper Iowa University: sophomores Cameron Bosacki and Tate Lofdahl both helped Upper Iowa to a 5-9-2 record in Coach McGowan's first season with the program. Lofdahl started 14 games adding 3 goals and 1 assist on the year ranking 2nd on the team in total points. Bosacki has started 13 games.
NCAA Division III
Concordia University: Finished the year 11-7-1. Cristian Tyrpak following on from a successful freshman campaign led the team with 9 goals and 3 assists for 21 total points on the season. Tyrpak had the most goals, points and game winning goals on the Falcons roster. Sophomore Goalkeeper Josh Bobke made 8 appearances on the season starting in 4 games.
Milwaukee School of Engineering (MSOE): Won the NACC Regular Season Championship going 15-4 on the season. Adam Krecak (Fr) made 2 appearances on the year with his first collegiate appearance coming in the recent 4-1 win over Ripon.
St. Norbert College: St. Norbert finished its season 17-1-1 overall and was unbeaten in the Midwest Conference at 9-0 to win its second consecutive league championship. DJ Dickson (Jr) started 12 games, tallying 1 goal and 1 assist. Sophomore Domenic DeMaria started all 19 games adding 5 goals and 6 assists on the season, ranking 3rd on the team in total points. DeMaria would also earn All-Midwest Conference 2nd team honors. Freshman Mitchell Scholz saw action in 17 games adding 3 goals and 4 assists to his name for 10 points on the season.
University of St. Thomas: After losing in the NCAA Division III National Final in 2016 and Quarter Final in 2017 St Thomas are having another stellar year with a current record of 16-3-2. The Tommies are through to the NCAA Division III round of 16 after defeating UW-Superior. Senior Aidan Hogan recorded his 30th career shutout in the game, which is a school record. Hogan has started 17 games this season. Sophomore Goalkeeper Niklas Martesson has made 1 appearance this season.
Wartburg College: The Knights endured a difficult start to the season but recovered to finish with a 9-7-3 record. Sam Thomann (So) started all 19 games adding 1 goal on the year. Thoman's goal was the game-winning goal in the October 9th win over Buena Vista. Paul Koebke Barsic (Sr) started 14 games and conceding only 11 goals for a 0.77 goals against average.
Carroll University: The Pioneers have had a tough season going 3-13-2. Sophomore Andy Golden played in all 18 games starting 13 on the season.
Wisconsin Lutheran College: The Warriors went 7-11 on the season, with a 6-5 record in conference. Senior Ken Sutton played in 14 games scoring 2 goals on the season. Sophomore Mario Caldwell played in 18 games starting 13, tallying 1 assist.
Loras College: Senior Javi Simon has helped the Duhawks to a 13-6 season. Simon started all 19 games adding 5 goals and 3 assists to his name. Simon ranked 2nd on the team in overall points with 13.
Macalester College: The Scots ended the season going 11-6-3 with a 7-2-1 record in the MIAC. Freshman Jared Holan saw action in all 18 games and played the most minutes of any freshman this season.
Virginia Wesleyan College: The Marlins finished the season with a 5-12-1 record. Deryck Burczyk (So) featured in 6 games making 1 start.
Claremont – Mudd – Scripps College: Sophomore Nate Brody suffered an injury during the season restricting him to only seeing action in 3 games on the year. The Stags had another good year going 15-2-1.
St. John's University: The Johnnies had a solid 8-7-1 seasons Freshman Drew Engel saw action in 10 games starting 6.
Marion College: Although it was a tough season for the Panthers going 4-10-12, freshman Tallon Schuster saw action in 16 games. Schuster started 14 games as a true freshman and had 9 shots on the year.
Edgewood College: Zander Hartberg had an excellent freshman campaign helping the Eagles to a 10-7-2 record. Hartberg started 16 games netting 4 goals adding 6 assists for 14 points on the year ranking 3rd on the team.
NAIA
Cardinal Stritch: FC Wisconsin Coach Jamie Bladen led the Stritch Wolves to back-to-back regular season Conference Championships and Conference Tournament Championships. Bladen was named the CCAC Coach of the year for the 2nd year running with Stritch currently having a record of 18-2 and ranked 9th in the Nation. The Wolves will play Columbia College Saturday November 17th in the opening round of the NAIA National Tournament. Sophomore Salvador Nunez was awarded with All-Conference First Team Honors after scoring 11 goals and adding 11 assists so far this season. Freshman Payton Aranda earned All-Conference 2nd Team honors after scoring 8 goals and tallying 4 assists on the season. FC Wisconsin Junior Academy Coaches Liam Heywood, Teren Schuster and Mauricio Pacifico were also First Team All-Conference honorees. Heywood was also awarded the CCAC Player of the year for the second consecutive season.
For a complete list of the FC Wisconsin collegiate players, visit fcwisconsin.com/college-commitments.
For more information on the club and all our teams please visit fcwisconsin.com.
For updated scores and highlights, follow us on Facebook, Twitter, and Instagram.