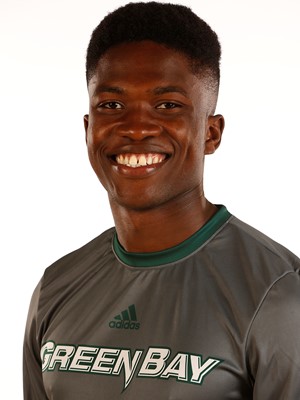 FC Wisconsin continues to add to its coaching staff in preparation for the 2019-2020 season. The club is excited to announce that starting with immediate effect, Emmanuel (Manny) Ekunseitan will join the staff. Ekunseitan will join the club having spent time coaching in the Green Bay area after graduating from the University of Wisconsin – Green Bay.
Ekunseitan is a native of Minnesota and grew up playing for the Minnesota Thunder Academy and St. Croix Academy. Upon graduating Andover High School, where he captained his team to a State Championship his senior year, he was recruited to the University of Wisconsin – Green Bay. Ekunseitan would play all four years for the Phoenix. In 2017, he helped the team win the Horizon League regular season championship and finish as runners-up in the conference tournament his senior year. Ekunseitan also excelled in the classroom and was a two-time Horizon League "A" honor roll member.
"We are excited to have Manny join our coaching staff. He is an energetic, enthusiastic, up-and-coming coach who has played at a high level. Many of our players have aspirations to get to the level that Manny has recently played. He is able to relate and pass on invaluable information to our players on what it takes to be successful. UW-Green Bay Head Coach Jeremy Bonomo spoke extremely highly of Manny, and since he has been with the club, his professionalism and work ethic has been evident for all to see," shared Co-Director of Coaching Ben Shepherd.
Ekunseitan will primarily work within the FC Wisconsin U13-U18 Regional Competive Program (RCP) in Germantown, while also assisting with the younger age groups.
"Having had teammates at UW-Green Bay who had previously played in the FC Program, I was already aware of FC Wisconsin's development philosophy and how it is very different from any other club in the state. The training environment, collaborative coaching model, and culture is extremely unique and innovative - which pushes players and coaches to reach their maximum potential. As a young coach, I am excited to become a part of the FC coaching staff and look forward to playing a part in helping develop players to play at the next level," said Emmanuel Ekunseitan.
"The hiring of Ekunseitan continues to show how seriously the club takes player development at all ages, within all programs. As a club, we are continually striving to improve and add quality, young, ambitious coaches to our already elite staff. This highlights our continued commitment to true long-term player development for all players under the FC Wisconsin curriculum," added Co-Director of Coaching Billy Solberg.
Welcome to the FC Family, Manny!