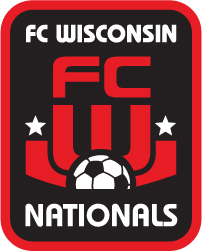 FOR IMMEDIATE RELEASE – 5.28.14
FC Wisconsin Nationals would like to announce that staff coach Chris McCreary has accepted a new position with another club for the 2014-2015 season, and will be leaving his coaching duties at FC Wisconsin this week.  Coach McCreary has coached with FC Wisconsin and its predecessor FC Milwaukee since 1995, coaching teams at almost every age group. 
"We thank Coach McCreary for his work over the past many years, and his contributions to the club and the players.  We wish him the best of luck in the future in this new opportunity," said FC Wisconsin Co-Director of Coaching Ben Shepherd.
"In parting, I would like to wish the many remaining players, families, and coaches I've worked with through my years with the Nationals program the very best both on and off the pitch. As I begin an exciting new chapter in my coaching career, I look forward to seeing many of you on the fields in the near future," remarked Coach McCreary.
Coach McCreary was a member of the FC Wisconsin NPL coaching staff in the 2013-14 season.  His teams will be coached by other NPL staff for the remainder of the season of their WDA and NPL games.  More information about the entire FC Wisconsin coaching staff and programs for the 2014-2015 season will be released this week.